Discover Your True Potential
1-2-1 Training By RS Customs
RS Customs are highly experienced providers of training for window tinting & vehicle wrapping. we provide training courses that help enhance your skills and take you from where you are to where you want to be. We can help you reach your ai and transform into the success you want to be. We like to be hands on during the course and always push to get bettter.
We provide 1-2-1 Automotive window tint training in our two workshops in Bradford & Leeds. All window film used on the training is included on the course. We tint cars for real customers, in a real environment, on real cars and panels to give you the confidence and experience you need. We tailor our training to the individual so the candidate gets the most from their time with us, if we feel the candidate needs more work in a specific area, we will make sure that area gets extra attention.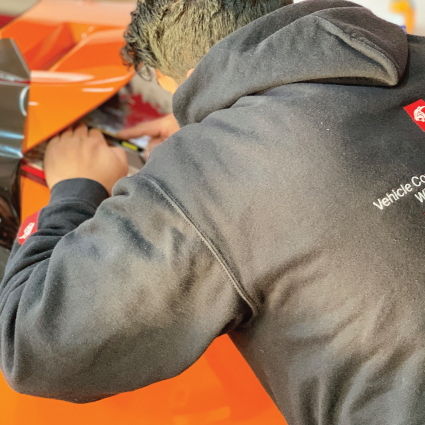 1-2-1 Window Tinting Course
RS Customs is a professional training school dedicated to teaching students the art of car window tinting, tint installation and all there is to know about window tinting services.
In this course, our students will learn about the car window tinting process, all important tinting steps, window tint industry tips and tricks, and various tint brands.
Our window tinting course has a theoretical and a hands-on practical component. This way you can apply what you learn on an actual vehicle. The course covers the following:
• Window tint laws
• Window tint films
• Window tint tools
• Window tint percentages
• Tint film cutting techniques
• Window tint Cleaning techniques
• Wet and dry tint shrinking techniques
• How to remove window tint film safely Installation techniques for side windows, back windows, sun strips, and frameless windows
Professional Vehicle Wrap Training & Development by RS Customs Installers and one of the top wrap installers in United Kingdom.
This comprehensive class is a must for individuals looking to enter the vehicle wrap graphics industry, or those looking to enhance and sharpen their vehicle graphics installation skills.
• Complete A to Z instruction on all aspects of vehicle wrap installation, including understanding vehicle graphics materials, tools of the trade, prepping the vehicle, trimming graphics, application, troubleshooting and post install care
• Small, individualised classes with plenty of one-on-one time with the RS Customs Instrutors.
• Training and "learn-by-doing" instruction on actual vehicles and vehicle panels In-depth instruction on installation techniques, as well as tips and tricks of the pros
• Hands-on practice using professional vehicle graphics equipment and materials Information on vehicle graphics industry trends
• Proven, systematic vehicle wrapping procedures for working smarter rather than working harder
• Basics of effective pricing, packaging and promotion of vehicle graphics and vehicle wraps services